Replacing Missing Teeth – San Antonio, TX
No More Empty Space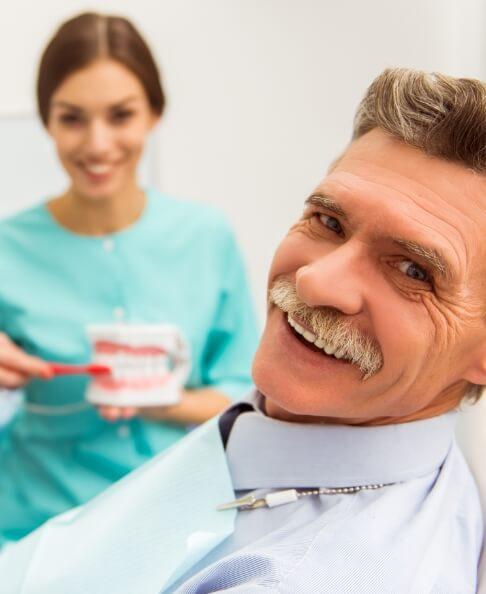 At first, a gap in your grin may seem like something you can try to live with. But once you try eating, speaking, and smiling with the empty space, it will quickly become obvious just how much your oral health, confidence, and overall well-being rely on you having a full set of teeth. Don't lose any time as soon as you realize that you're facing life with a missing tooth; give Crownridge Dental a call today to schedule a consultation and start learning more about your options for replacing missing teeth in San Antonio, TX that Dr. Pham can offer.
Why Choose Crownridge Dental for Replacing Missing Teeth?
Dentist with Extensive Education
Focus on Long-Term Solutions
Fully Personalized Prosthetics
Dental Bridges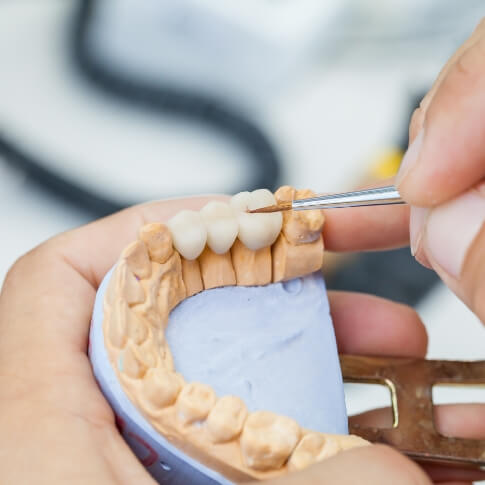 A bridge is made up of at least three restorations: two crowns and one or more prosthetic teeth called pontics. The crowns are made to sit on the natural teeth that are still in your mouth so that the pontics can fill the gap. Since bridges are firmly anchored in your mouth, they won't slip when you're trying to eat your favorite foods, and they'll stop your remaining teeth from drifting into the open space left by your missing tooth or teeth.
Dentures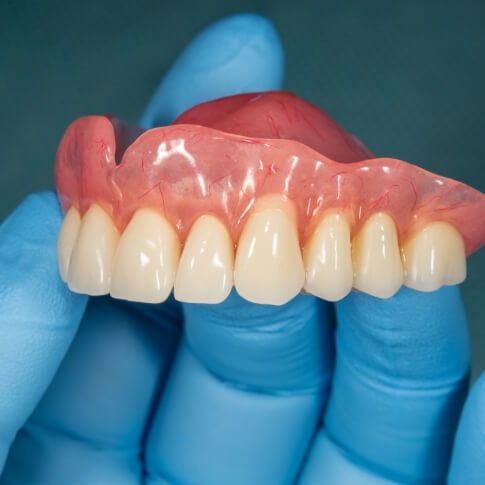 Dentures let you replace many teeth – or possibly all of your teeth – all at once at an affordable price. Both partial and full dentures are made from a combination of acrylic and tooth-colored materials so that your new teeth are as natural-looking as possible. Full dentures that replace the entire arch sit on your gums, while partial dentures that fill in gaps are held by metal clasps. Dentures can be taken out of your mouth to give it a rest; this also makes them easier to clean.
Dental Implants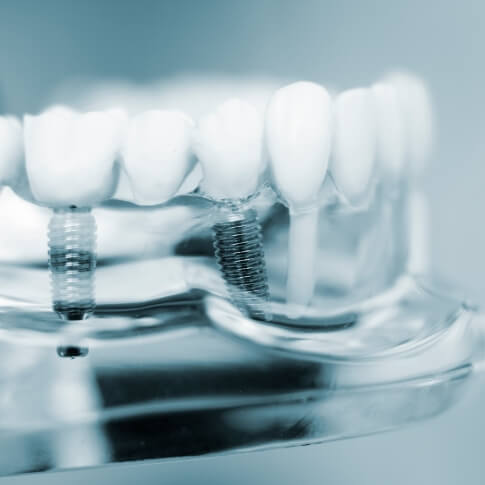 How are dental implants different from bridges and dentures? There are several ways to answer this question, but the most important distinction is that while bridges and dentures only replace the crown portion of your missing teeth, dental implants do the same thing and also account for the root portion that's normally beneath your gums. New tooth roots will keep your new smile stable, and they'll directly contribute to a healthy jawbone.
Learn More About Dental Implants